Stone Building Solutions is a leading provider of professional engineering and architectural services in Florida, including Milestone Inspections. These essential inspections play a critical role in maintaining the safety and integrity of your condominium. Our team of licensed architects and engineers are equipped with the necessary skills and knowledge to navigate this detailed process, ensuring your building remains structurally sound for its intended use.
About Milestone Inspections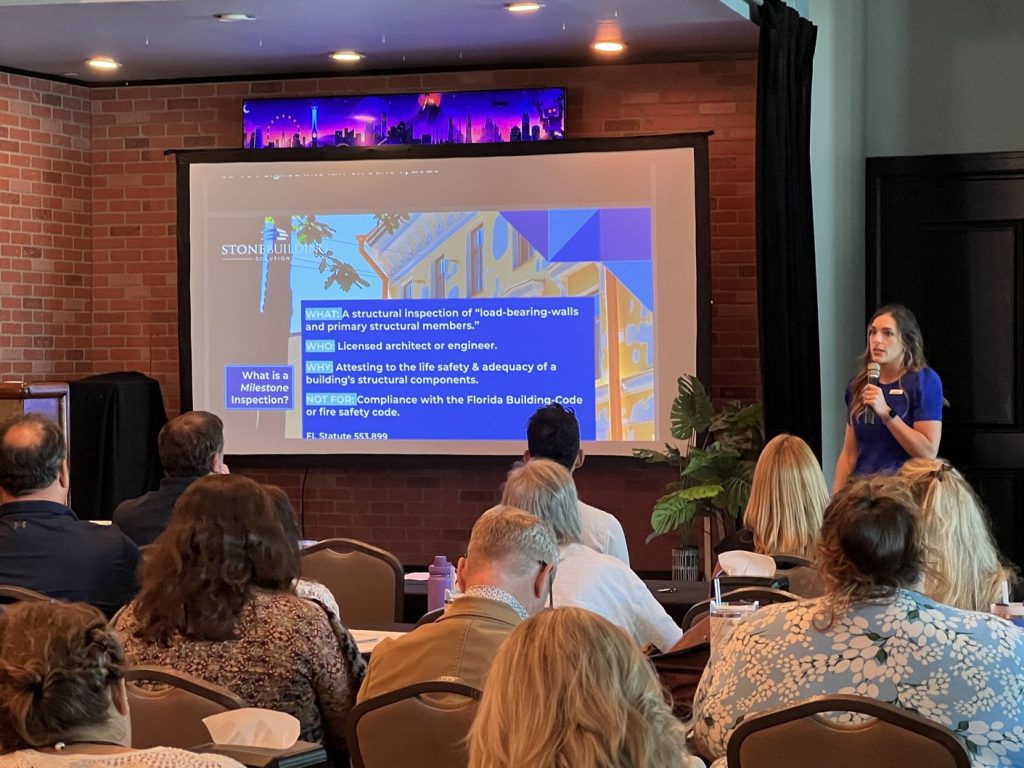 A Milestone Inspection is a comprehensive structural assessment conducted by a licensed architect or engineer. These inspections are mandatory for all condominiums and cooperative buildings in Florida that are 30 years old and have three or more floors. The primary purpose of Milestone Inspections is to ensure the safety of buildings by examining their structural components and overall condition. The focus is not on whether a building complies with the Florida Building Code or the fire safety code, but rather on its structural integrity.
The Milestone Inspection consists of two distinct phases. In Phase One, our team performs a visual examination of habitable and non-habitable areas, evaluating the building's major structural components. If no signs of substantial structural deterioration are found, Phase Two is not required. However, if significant structural issues are identified, a more detailed inspection (Phase Two) is initiated. This phase may involve destructive or non-destructive testing as needed to assess areas of structural distress thoroughly.
It's crucial to remember that these inspections are required every 10 years after the initial 30-year mark, ensuring the continued safety and structural soundness of your building.
How Stone Building Solutions Can Help
At Stone Building Solutions, we are dedicated to helping you navigate the complexities of Milestone Inspections. Our goal is to thoroughly cover every necessary inspection point during Phase One, effectively minimizing the need for a Phase Two inspection whenever possible. During Phase One, we will conduct a comprehensive visual examination of your building, documenting the condition of all major structural components. If significant structural issues are identified necessitating Phase Two, we will implement both non-destructive and destructive testing methodologies as appropriate, to comprehensively assess all areas of structural concern. Following each phase, our team will prepare and submit a detailed inspection report.
Moreover, if repairs are deemed necessary, we will guide you through the steps of obtaining the appropriate building permits and ensuring all repairs are performed to the highest standards.
Why Choose Our Milestone Inspection Services?
At Stone Building Solutions, our team of licensed architects and engineers are not only highly experienced in conducting Milestone Inspections but also excel in delivering comprehensive reports to clarify the condition of your building and any steps needed for its safety. We don't abandon you post-inspection but instead, offer continued guidance and support to help you understand our findings and to action necessary steps. Recognizing the urgency of these inspections, we are committed to providing timely service within required deadlines. Emphasizing a customer-centric approach, we ensure your satisfaction is our top priority, addressing your concerns and answering your queries throughout the entire process.
Your building's safety and structural integrity should never be left to chance. Trust Stone Building Solutions to provide you with the thorough and professional Milestone Inspection services you need. Schedule an appointment with us today.